For more than 22 years, the professionals at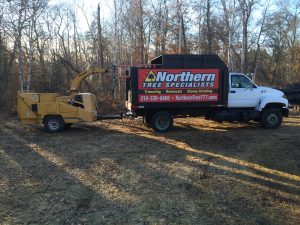 Northern Tree Specialists have been helping homeowners in the entire Brainerd Lakes Area with all their tree care needs.
For advice on everything from tree trimming to tree removals, call Todd with Northern Tree Specialists at 218-330-0469
Potential Questions to Ask an Arborist/Tree Service
• What heavy equipment will need to be driven across the lawn to access trees?
• Does the arborist/tree service have adequate liability insurance coverage and workmans' compensation insurance if the unexpected happens?
• When large branches are being cut/removed, will the tree service remove the wood that is too large to grind up in the chipper?
• Does the tree pruning cost include disposal of the tree branches?
• Is the arborist or tree service going to remove a few low branches, or will they be removing a percentage of the extra interior tree branches?
Pruning is healthy and necessary for a healthy growing tree, but it's important to make sure it is done right and that it fits your budget.
Contact Us For A Free Estimate!